The internet gives us the ability to reach niche audiences at scale. However, without intimate knowledge of who our customer is (i.e. buyer personas), we lose that ability.

Data shows that using your buyer personas to personalize marketing can lift revenues by 15%.
Buyer personas are:
A research-based representation of who buyers are, what they are trying to accomplish, what goals drive their behavior, how they think, how they buy, and why they make buying decisions.
– Tony Zambito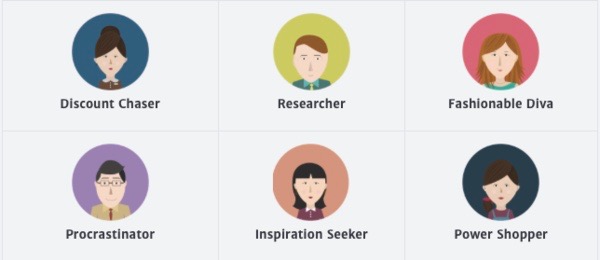 Examples of e-commerce buyer personas.
To answer these questions about our customers, we need data about demographics, interests, preferences and more. This article will cover 11 credible data sources to help you build detailed buyer personas.
1. Google Analytics Data on Demographics and Interests
If you have Google Analytics installed on your website, you have access to demographic data about your website's visitors.
Google Analytics has built-in reporting on:
Location. Helps tell where you're most popular.
Age/gender. Add additional segments for sections of your website to understand who is engaging with specific pieces of content.
Interests. This is based on cookie data from other sites your visitors have been to. It's not 100% accurate, but it's good enough to understand more about your potential customers.
Mobile usage. Helps you understand how to better reach people with your marketing (e.g., If your website is mobile heavy, this affects website design, advertising strategy, etc.).

These reports are not enabled on new Google Analytics accounts. Read here on how to enable demographics and interests options.
2. Google Search Console
Keywords (from search engines) help us understand intent behind why people are visiting your website. If you sell sneakers online, you could be receiving traffic from the following keywords (assuming you're optimized for SEO):
"Buy black shoes"

"Shoe sizing guide"

"Shoe trends 2017"
Each keyword holds value to a different stage in the customer journey. Having this data can tell us a lot about customers, their behaviors and their paths to purchase.
Unfortunately, Google Analytics no longer shows actionable keyword data. But Google Search Console does!
While Google Search Console's primary features are all about monitoring the health of your site, the tool also serves up keyword data, along with the click-through rates of your keywords.
Look for queries like:
Service + cost

Service + location

Service + problem

How do I ….

Service vs. Competitor Service
These represent a customer at a particular stage in his/her journey. These keywords can help us uncover customer pain points, desires, language (slang) and intent – all vital aspects to help build a credible buyer persona. 
3. CRM and Marketing Automation Platforms
Your marketing automation platform will provide a ton of valuable data you can use to construct personas, including:
A list of your customers and data on their demographics.
Email sequence information with insights on buyers' content preferences.
Social data (contact information across various networks).
But you can go further than just tracking the behavior of buyers and known visitors. SharpSpring will show you the identities of anonymous site visitors, revealing details like the name of their organization and its revenue numbers.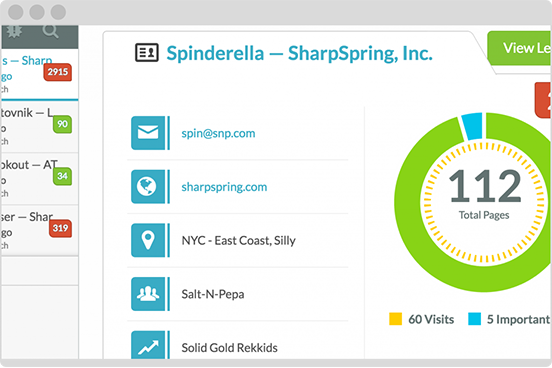 SharpSpring's VisitorID reveals details like company name & location.
4. Twitter Tools
Twitter is a data-rich platform with tons of valuable information:
Use

Twitter Search

to find out what potential customers are talking about.

Access your

Twitter Analytics

to find out which tweets have the highest engagement rates among your followers. This data, when associated with who RT'd or favorited the tweet, will tell you the types of content different personas might be attracted to.

Check out third-party tools (like

FollowerWonk

) to find out more about the followers of any Twitter account, their locations, interests, details of their tweets, etc.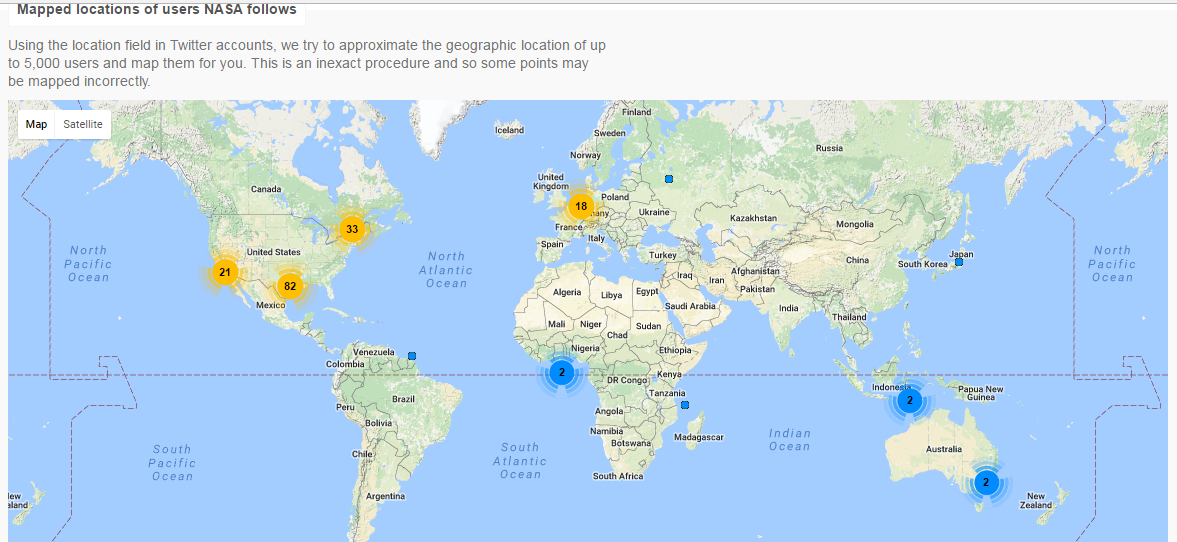 Followerwonk in action – location of followers of @nasa.

Analysis of @nasa followers' tweet activity by time.
5. Facebook Audience Insights
Facebook Audience Insights is arguably the best source of free demographic data available on the web.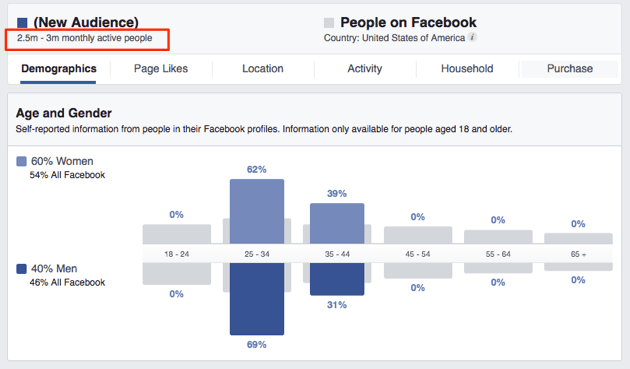 Facebook Audience Insights provides detailed demographic breakdowns.
You can find information about:
Age and gender, education, relationship status, household size, lifestyle, etc.

The top pages your demographic likes in different categories.

Location and languages spoken.

Details about Facebook usage, including frequency and the types of devices used to log in.

Purchase behavior and purchase methods.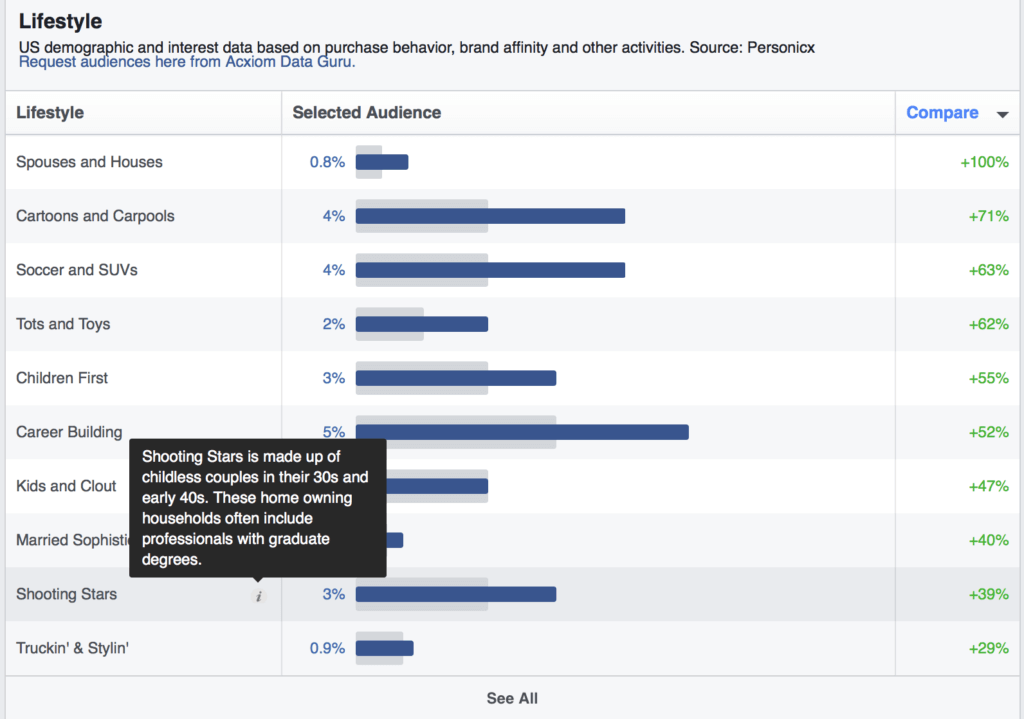 Lifestyle information from Facebook Audience Insights
This information can be segmented into three buckets:
All of Facebook

People connected to your page

Custom audiences
Audience Insights is a robust tool with a lot of functionalities. Make sure to check out Facebook Help for more information.
6. Google Surveys
Surveys have always been the go-to tools for fleshing out buyer personas. But surveys, as traditionally used, need a huge pool of respondents in order to offer actionable intelligence.
What if you are just starting out and don't yet have a large list?
Google Surveys can help, as it will give you access to thousands of verified respondents.
You can filter your audience on the basis of age, gender, location, and more to get started. You can also ask qualifying questions to narrow down the field and get more relevant responses.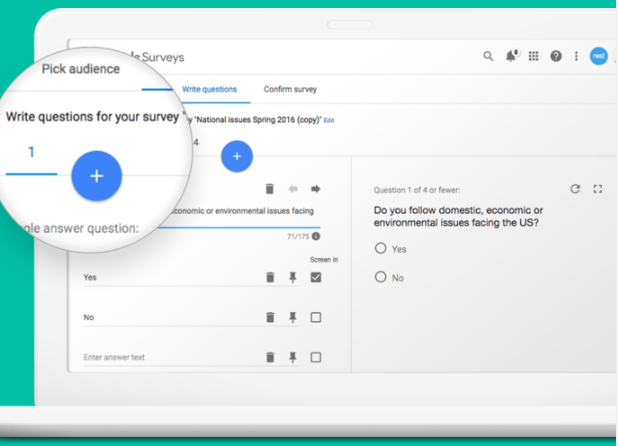 Google Surveys will also automatically analyze the responses and present them in a visual dashboard.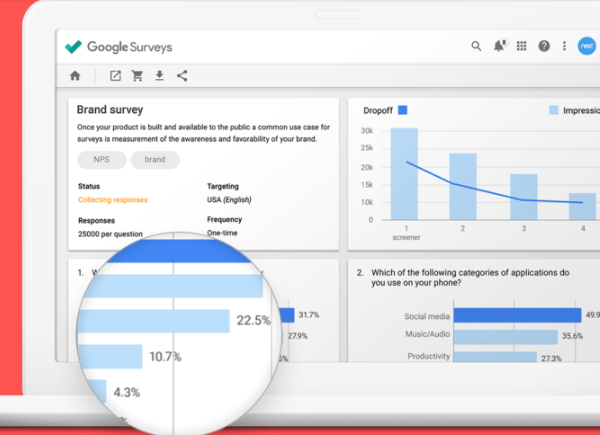 If you have a higher budget and want to ask questions from highly targeted audiences, you can use Google Survey 360.
7. Google Consumer Barometer
Few tools can beat the depth and scope of the free and interactive Consumer Barometer tool when it comes to consumer data about Internet usage.
You can use this tool to track user behavior across multiple screens, including smart TVs and connected devices for major countries and geographies, and through major consumer segments.
The Graph Builder tool inside the Barometer suite will tell you, for example, that 64% of Belgians bought hair care products based on past experience.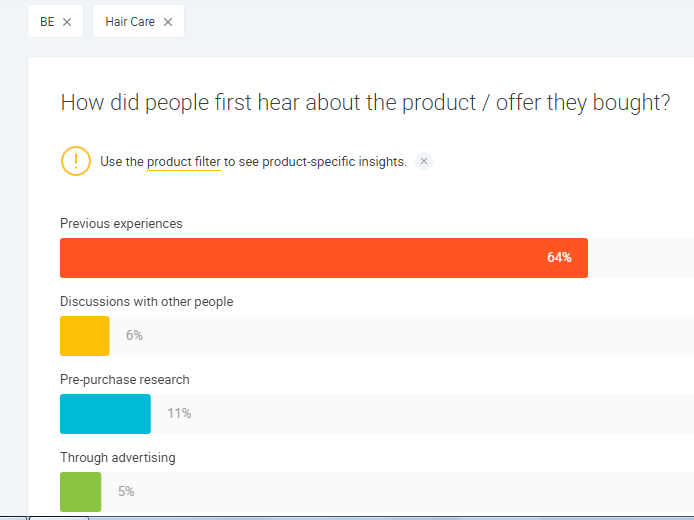 The Consumer Barometer tool gives free, detailed information on internet usage by consumers.
You can also find detailed research on online behavior across geographies and product segments.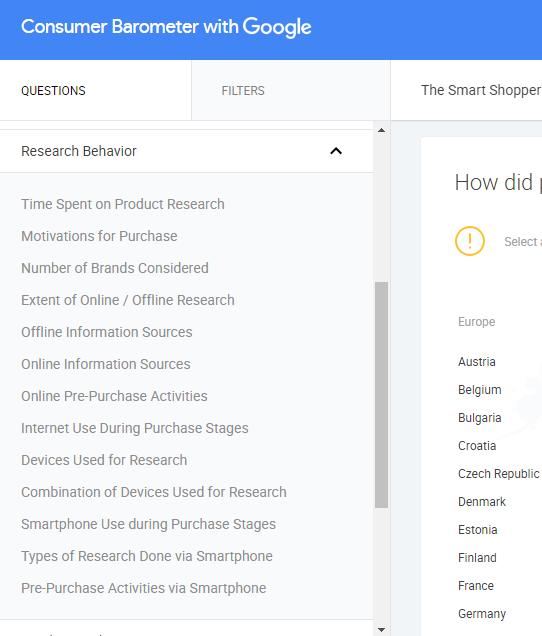 This Think With Google article gives a comprehensive overview of how this tool works.
8. Facebook Polls
Facebook Polls can give you easy access to qualitative data from anyone on the platform.
With Polls, you can add videos or images in the questions to make the entire exercise fun. Facebook will analyze the responses on easy-to-understand dashboards and let you export the data into Excel for deeper analysis.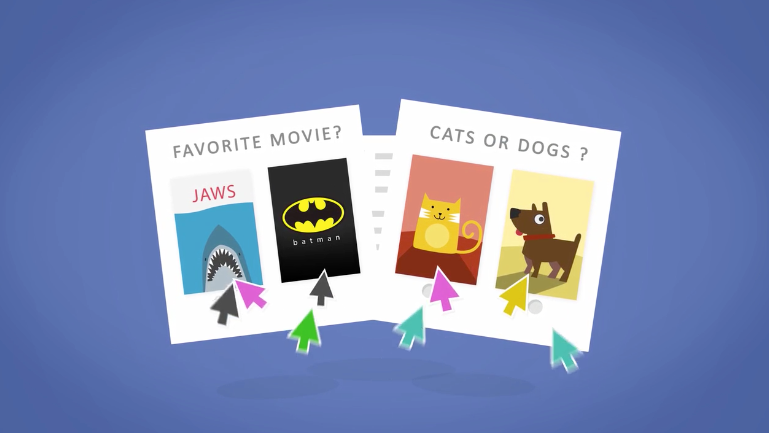 Poll lets you add videos or images to make the exercise more fun for users.
Apart from using Polls to get customer insights, you can also use it to drive higher engagement on your page. 
9. Crystal
The Crystal app is a browser extension that helps you write better emails, based on the recipient's social media activity.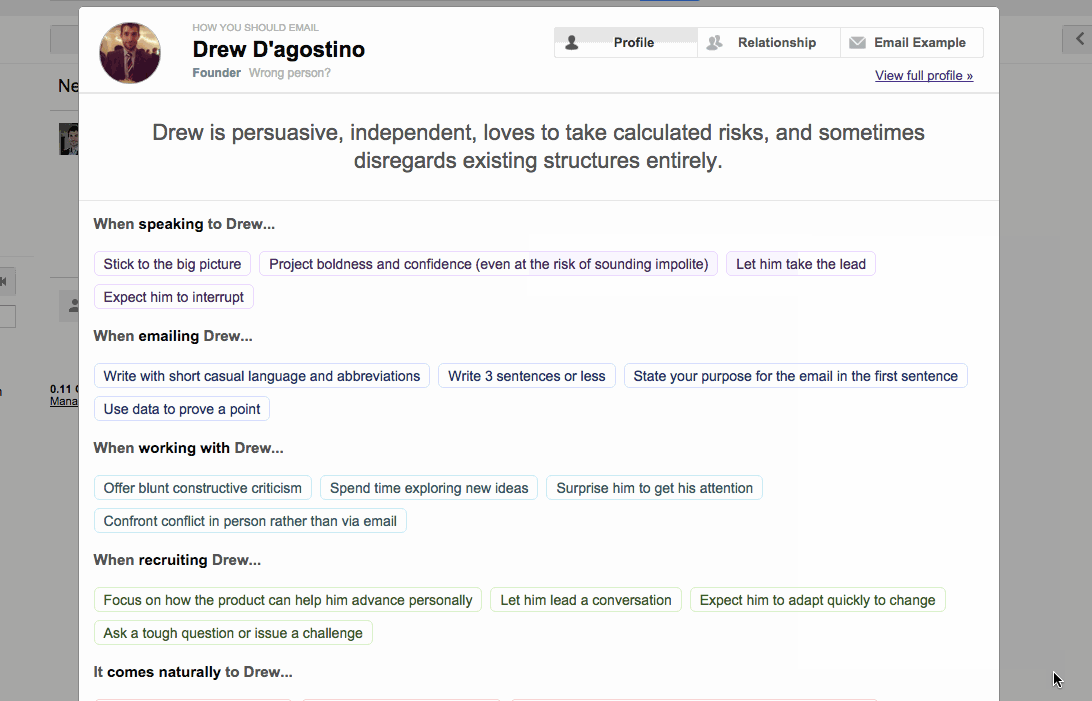 If you regularly converse with customers via email (or have a support staff), the tool essentially builds persona profiles for you.
As your contact list increases, you will start to see similarities in the psychological profiles and can improve your targeted marketing and sales messages. 
10. Spy on Competitors With SEO Tools
SEO tools are built to help increase traffic from search engines, but are also incredibly helpful in persona research.
They allow us to look in detail at what our competitors are doing in regards to their online marketing. If they're having success, you should be able to draw out what their target personas look like.
My favorite tools are:
Similarweb

: Shows you what your audience is interested in on your own site and on your competitor sites.

SEMRush

: A versatile tool that helps you estimate a competitor's traffic by looking at the keywords they rank for in Google. On top of that, it uncovers a competitor's ad strategy, copy, keywords and budget.

Ahrefs

: Allows you to see who is linking to your competitors (PR, bloggers, reviews, etc.).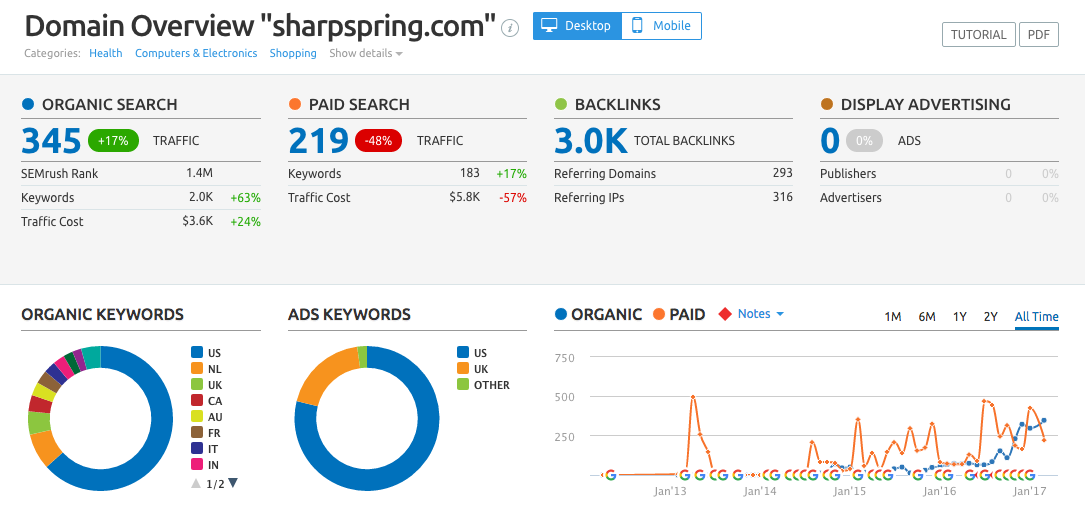 SEO tools help you increase search traffic and gather information to build out buyer personas.
All of these tools have a free version (which allows for limited usage), but they will give you enough information to build our your personas with additional detail. 
11. Build a Facebook "Chatbot" to Collect Conversational Data
You can now add a Facebook Messenger chatbot to your website without writing a single line of code.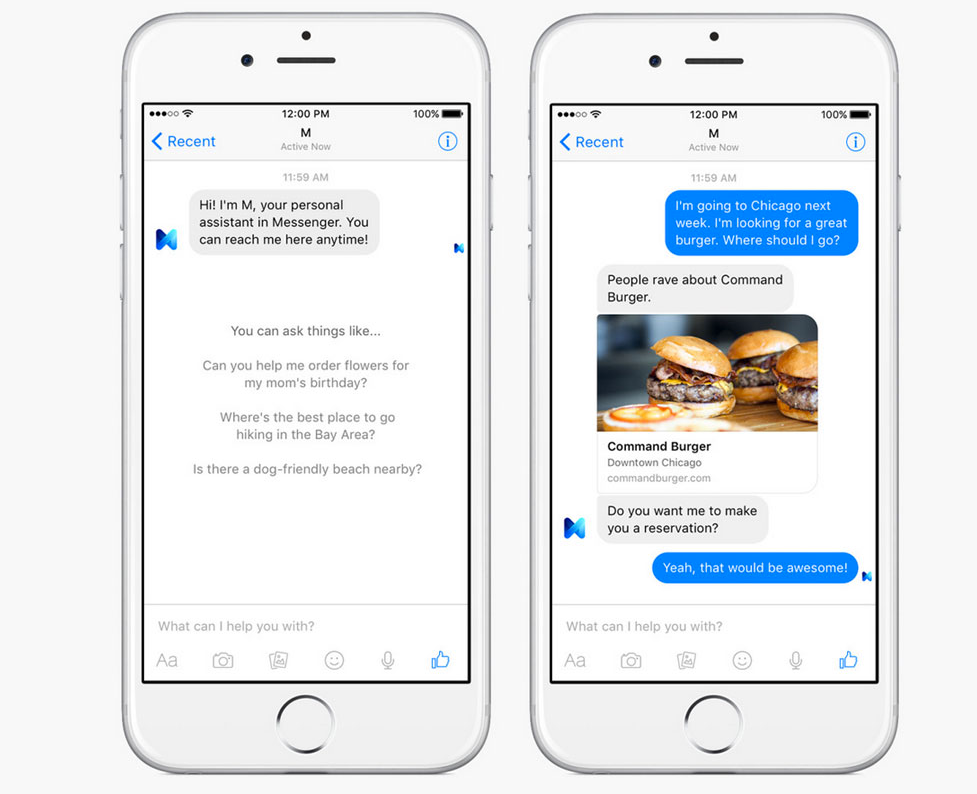 These AI-powered chatbots can book tickets, conduct e-commerce transactions, or engage in fairly intelligent back-and-forth conversation with site users. 
All of these activities, over time and when correlated with other data points like customer details or social sign-ins, can ground your buyer personas in reality. 
Jumpstart Your Marketing Campaigns With Buyer Personas
According to Buyer Insights Benchmark, 71% of companies with documented personas beat their revenue and lead goals, while 26% companies without buyer personas missed them.
Aberdeen Research found that when marketers use buyer personas to create content, they hit conversion rates of 73% for marketing-qualified leads.
Using the tactics we've discussed, you can get started with a data-backed, realistic buyer persona strategy – without having to spend too much time or money actually talking to buyers to get information. These tactics will also help you keep your persona document current, so you can adapt and adjust to changing customer preferences or behaviors. Get on a demo of SharpSpring today to learn how marketing automation lets you take your personas to the next level.