Unite Marketing & Sales Teams with CRM and Marketing Automation
Use SharpSpring marketing automation to drive and nurture leads. Then use the built-in automated CRM to manage the pipeline, log sales activity and close deals.
More Productivity, More Sales
Visualize your entire pipeline in the SharpSpring CRM's intuitive drag-and-drop interface. Seamlessly track opportunities. Customize deal stages, fields, filters and more to manage your unique sales process.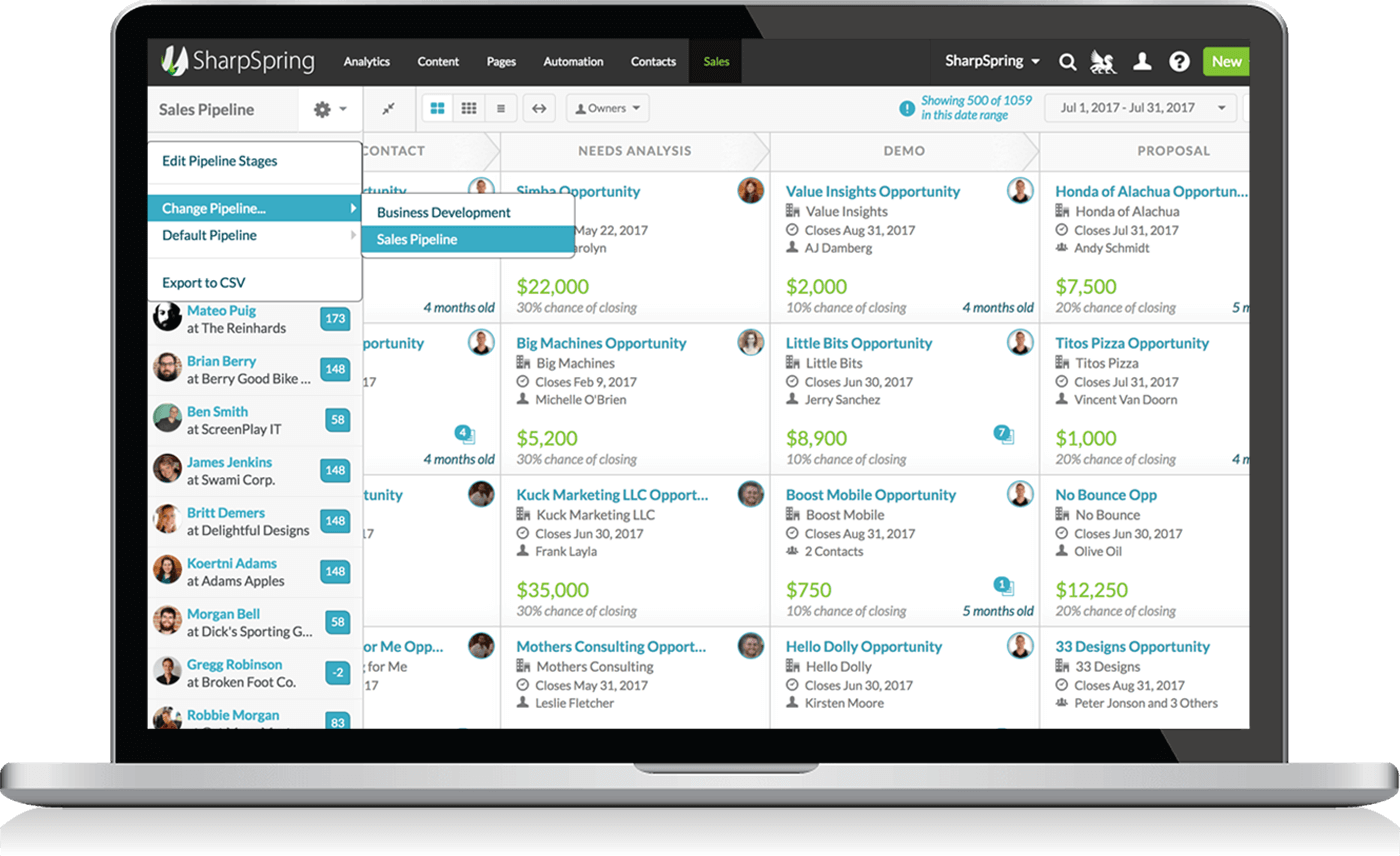 Easily visualize and manage your pipeline in an intuitive interface.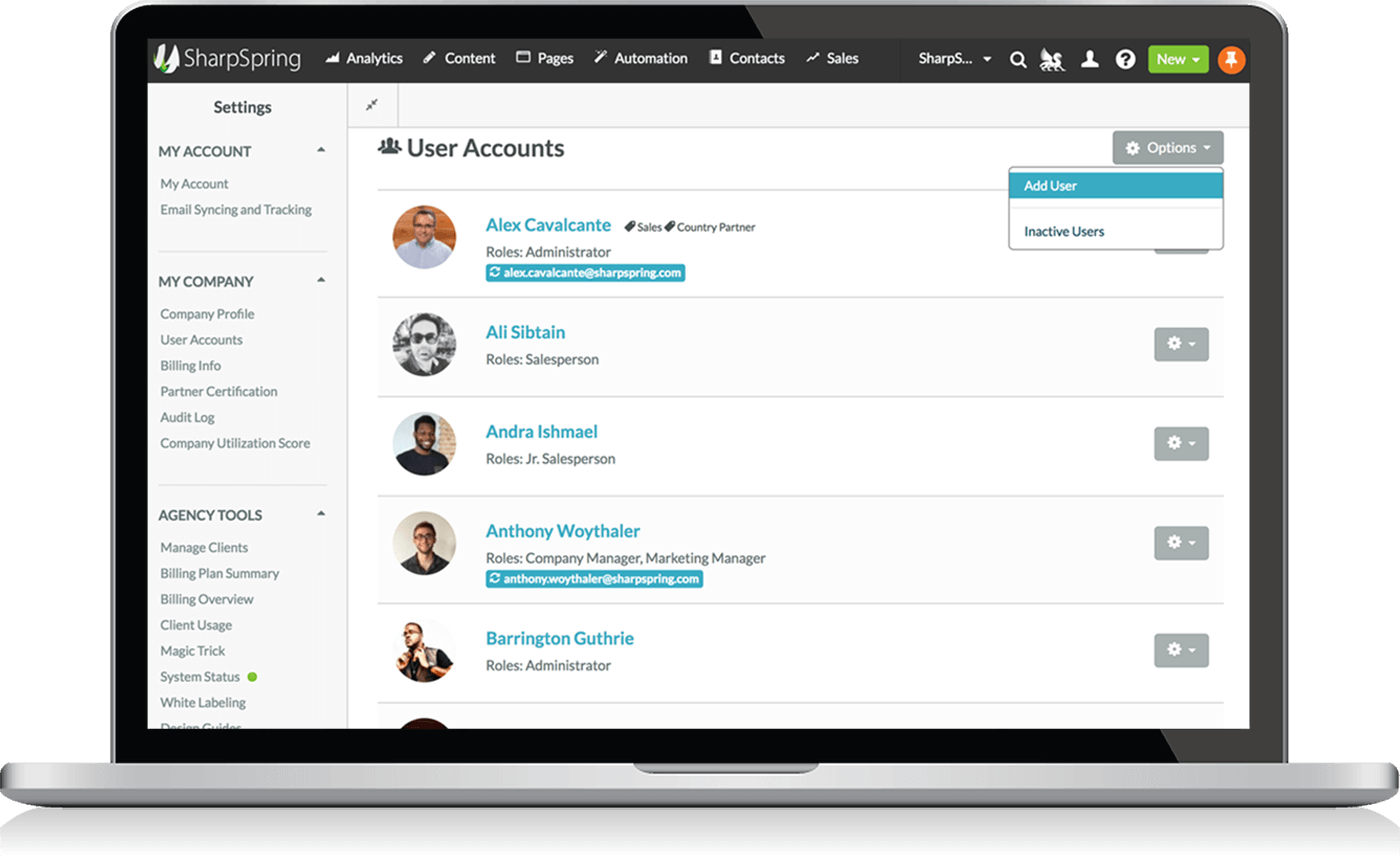 Seamlessly add new users as your team grows.
Streamlined Interface, Unlimited Users
Say goodbye to the bulky features that can make a CRM complicated. Instead, SharpSpring's streamlined CRM and marketing automation includes just what you need – even unlimited users. Yep, unlimited. You shouldn't be penalized for growing your team, so whether you have two users or 200, you're good.
Customizable Pipeline
Every potential sale is an 'opportunity' you want to track. With the SharpSpring CRM, you can quickly drag and drop opportunities from one pipeline stage to the next throughout the sales cycle.
Pipeline stages are customizable to meet the needs of every business niche. The number, order, name, default probability and description of the stages can all be adjusted to fit your exact needs.
Track estimated revenues and close dates, and view the progress of an opportunity from the beginning to the end of the buyer's journey.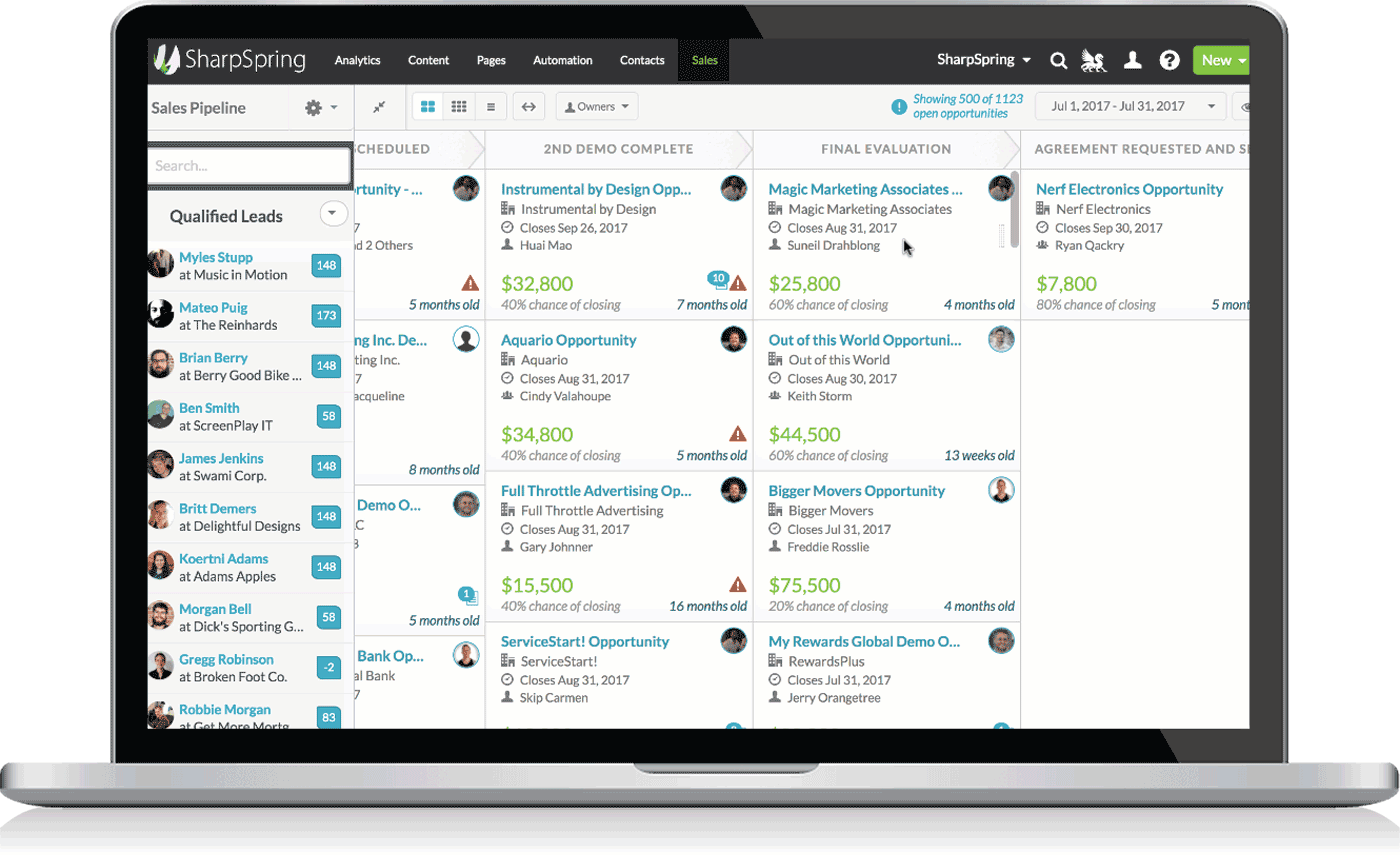 Drag and drop opportunities to tailor the pipeline to your exact needs.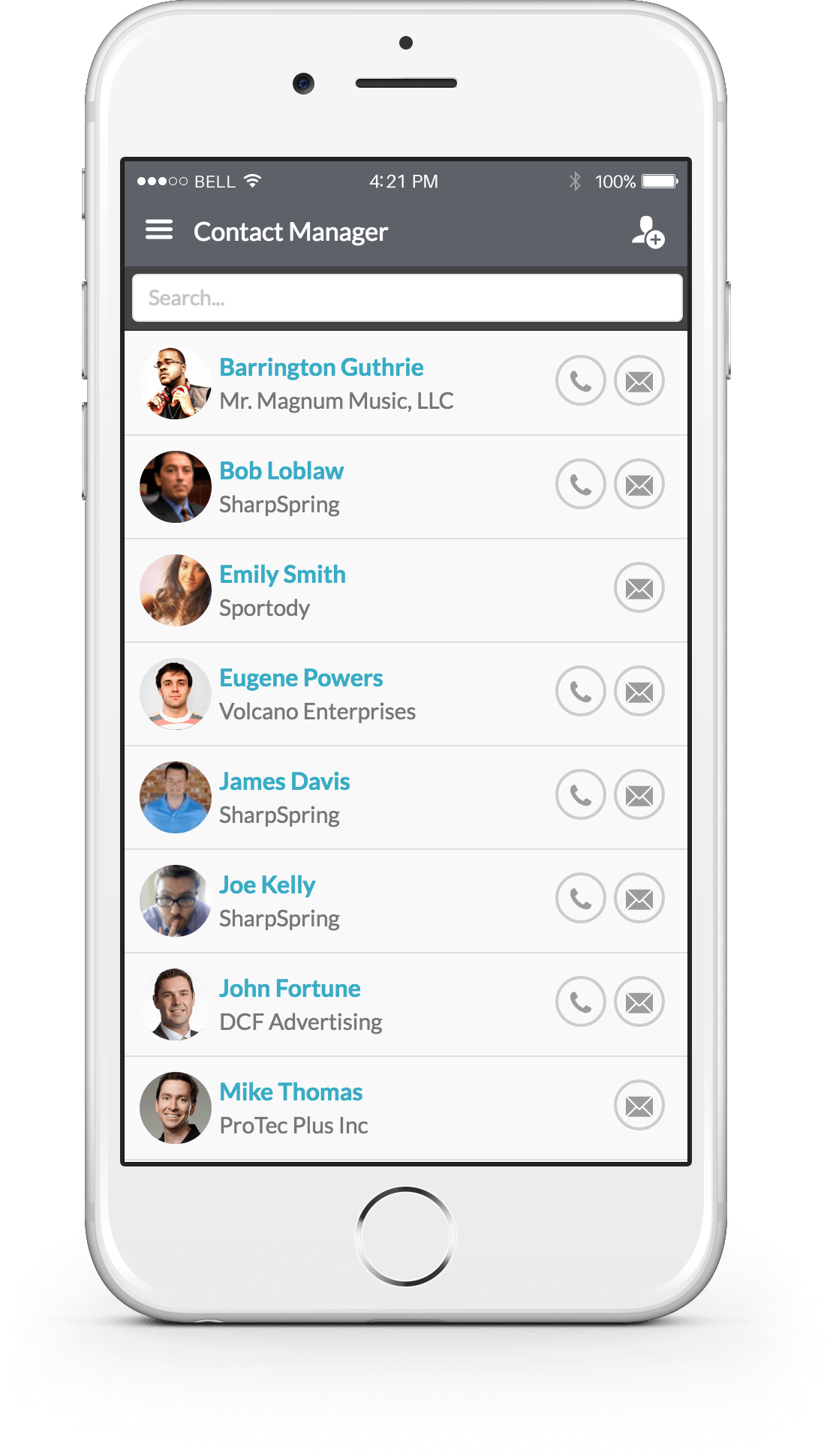 Access from Anywhere with Mobile CRM
Explore your contacts, leads and opportunities on your favorite mobile device. View your pipeline from anywhere.
Whether you're always traveling or just need to brush up on a particular lead before a critical meeting, the SharpSpring mobile CRM app ensures you can view, edit and add on the go.
Get it from the Apple App Store or on Google Play.
* Requires subscription to SharpSpring
The Affordable CRM for Marketing Agencies and Businesses
See how digital marketing agencies use SharpSpring's affordable CRM to manage business development and serve clients. Use SharpSpring's agency model to offer both marketing automation and CRM to clients. Grow your agency and tie clients to you.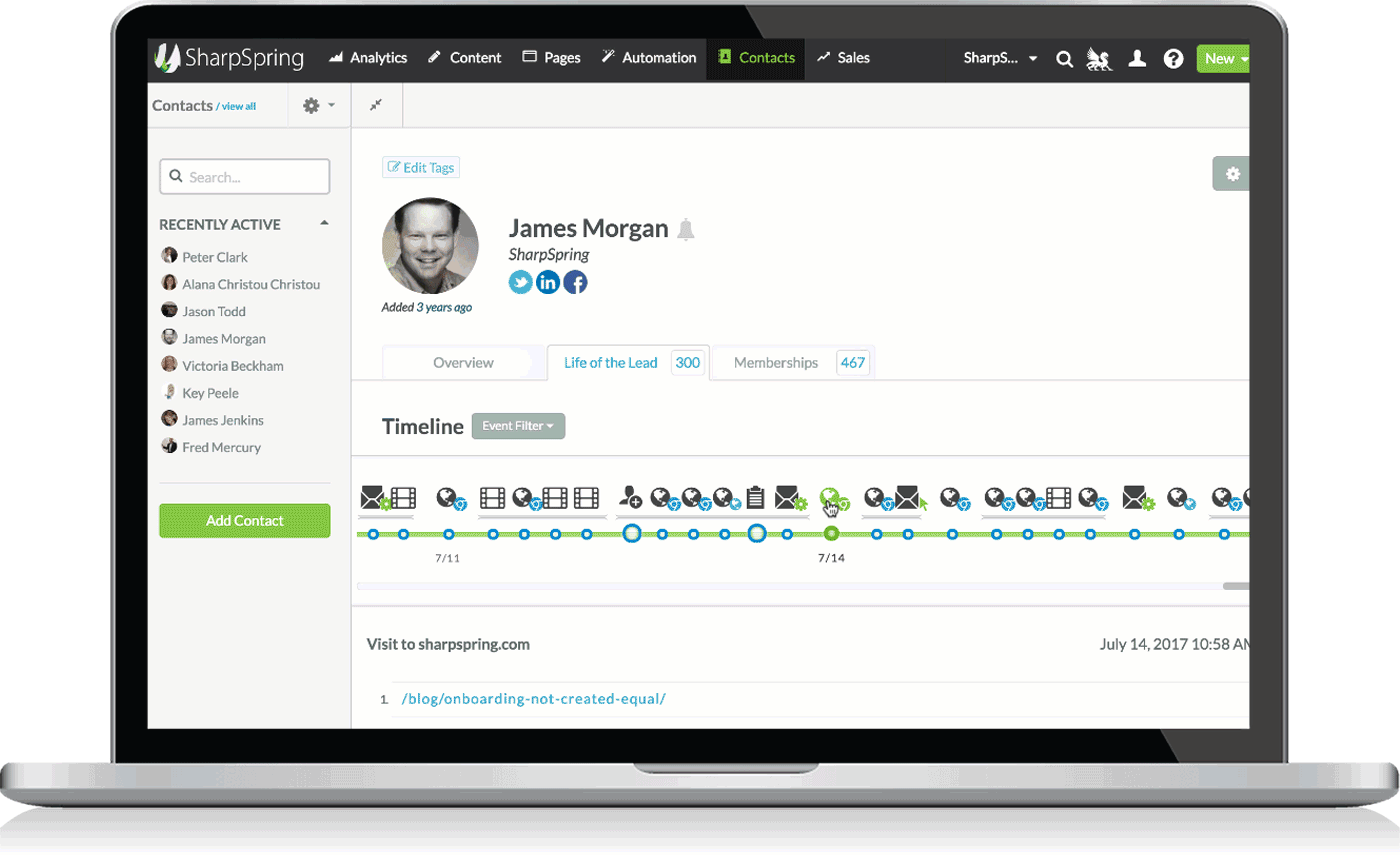 See every interaction with marketing automation and CRM in one platform.
Unique Timeline Per Contact
SharpSpring's 'Life of the Lead' feature allows you to easily visualize a single contact's entire relationship with your business. The 'Life of the Lead' combines tracking, automation and email to display a timeline of significant events for each contact, which are tracked in both marketing automation and CRM.
Account-Based Marketing
Stay organized by combining contacts that share the same email domain into one account, so you have a centralized place to maintain employee information for each company you work with. Easily group your clients and create customer segments to communicate effectively.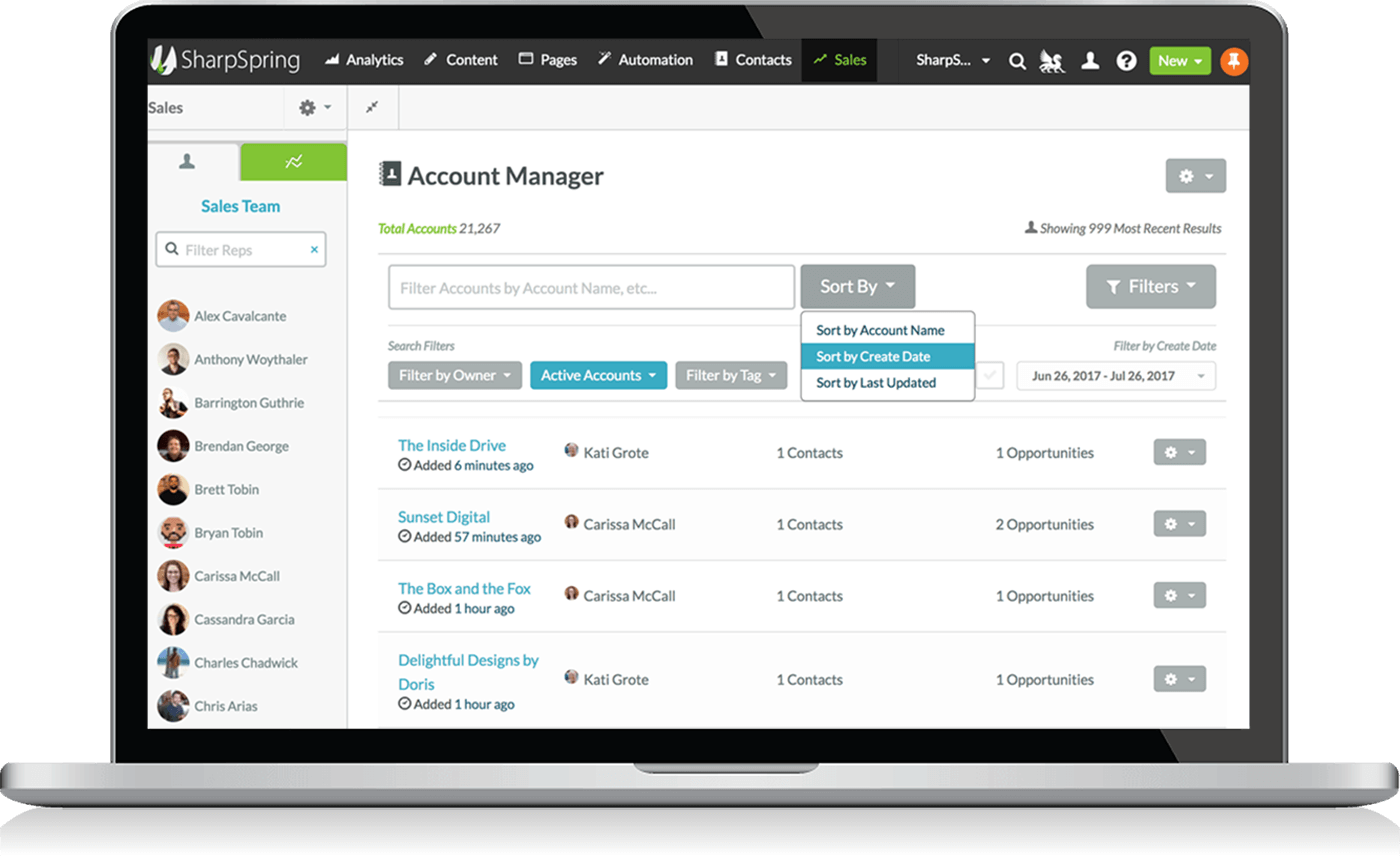 Easily track accounts with automated CRM software.
Easy reporting and forecasting in an affordable CRM.
Accurately Report & Forecast
Get conversion reports, pipeline reports, activity reports, follow-up reports, and projection/performance reports. Easily apply filters to each report to evaluate the performance of a specific salesperson or your team as a whole. Measure your current sales success and accurately forecast future performance.
End-to-End ROI on Every Sale
Make it easy for everyone on your team to be on the same page and have full visibility of ROI. The sales and marketing teams can work together – on the same platform and toward the same goals – with SharpSpring marketing automation and CRM.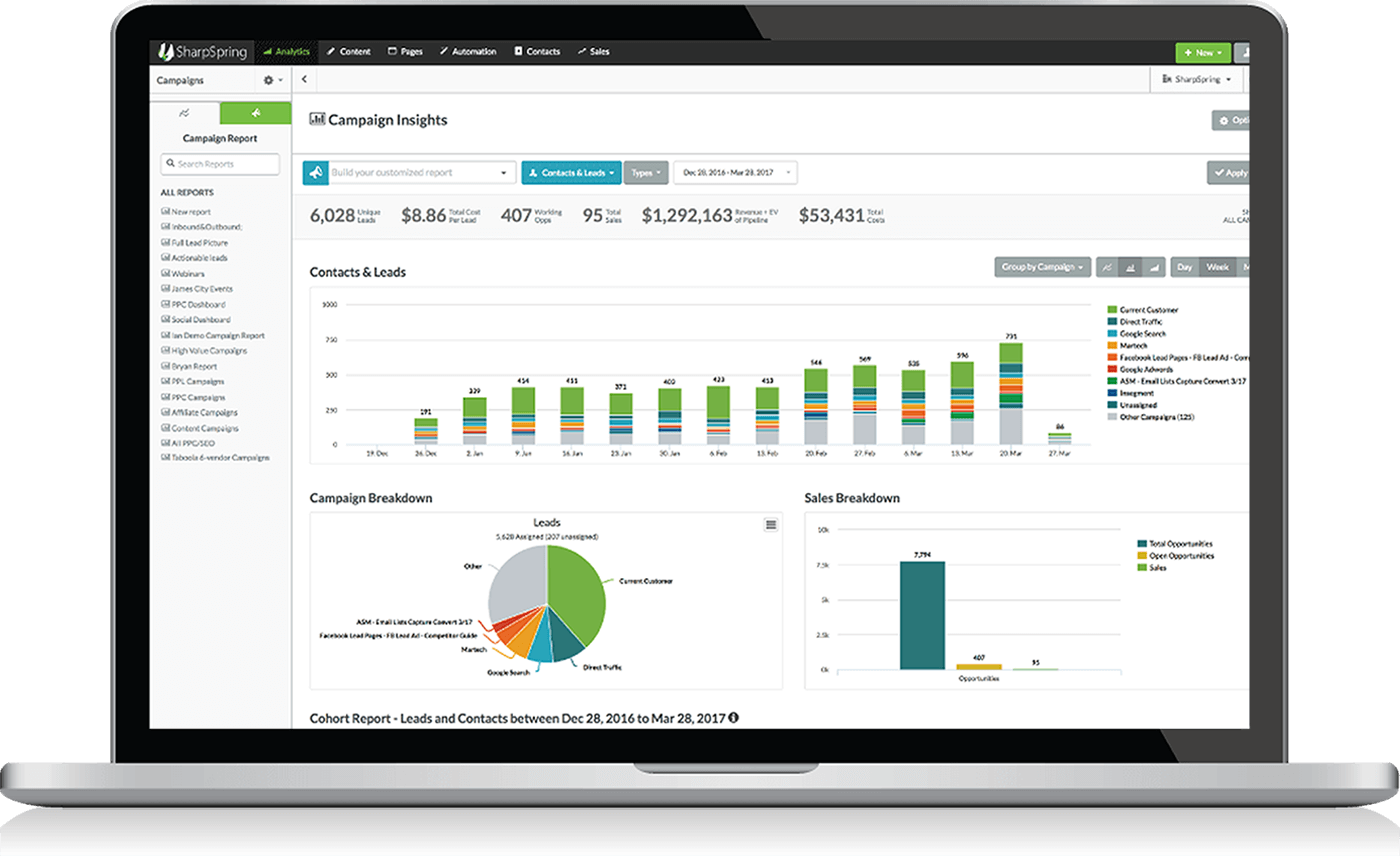 See the whole picture with reports from CRM and marketing automation in one.
Summary of SharpSpring's CRM Features:
Unlimited users
Easy-to-understand pipeline
Full timeline highlighting the 'Life of the Lead'
Custom lead scoring to prioritize contacts
Custom deal stages to fine-tune your pipeline
'Smart Emails' to personally contact leads right from the platform
Internal note sharing for transparency across teams
Automated reminders to promote efficiency
Social CRM features: connections with Facebook, Twitter and LinkedIn
Mobile app for deals on the go
Actionable reports to demonstrate ROI
See every campaign, opportunity, list, workflow and email a lead is associated with
And of course, it's built into a powerful marketing automation platform
Ready to start tracking your leads and closing sales with CRM and marketing automation?
Schedule a personalized, live demo today.