Has your boss or a client ever said to you: "Show me the money!"? Well, here at SharpSpring, we get just as excited about this request as Jerry Maguire, and that's why we've designed the SharpSpring CRM with your revenue goals in mind.
One of the easiest ways to show the ROI of each customer is to accurately track them in your CRM, starting with the very first time they interact with you, and following them all the way to a closed sale.
SharpSpring is known for its marketing automation features, but did you know it also has a full-featured CRM included in the platform? And get this – it comes at no extra cost.
Forget About Upcharges and Add-Ons
You can enjoy all of the benefits of a functional CRM – including custom deal stages, an easy-to-understand pipeline, multiple types of CRM reports and so much more – without paying anything extra. To top it off, the SharpSpring CRM includes unlimited users.
"SharpSpring has an awesome integrated CRM mixed with all of the other marketing automation tools, so you don't have to go out and buy separate software licenses for the features you need," said Rafael Zabala, Chief Strategy Officer at Interactive Marketing. "SharpSpring is a complete marketing automation system with true behavioral marketing capabilities."
To compare, the most popular Salesforce plan comes in at $150 a pop for every user each month. While Salesforce is an incredible, robust CRM, sometimes it's more than what a small business really needs. SharpSpring's entire marketing automation platform (with CRM included) starts at only $450 a month for unlimited users. Yep – unlimited. If you have 5 users or 50, you're good.
So, if you're looking around for a new contact relationship management system, keep reading to see some of the awesome benefits of using the SharpSpring CRM.
Golden Opportunities
We classify an "opportunity" as a sale or pending deal you want to track. In SharpSpring, opportunities are easily created in the Contact Manager and added to the pipeline.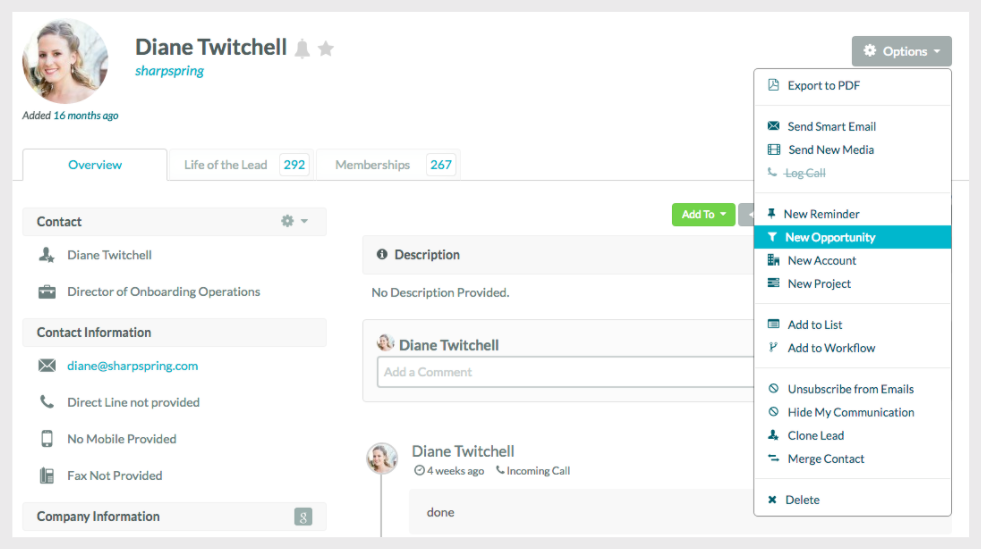 The SharpSpring CRM uses a visual pipeline, which makes it easy to monitor sales processes and allows for closed-loop reporting, which both the sales and marketing teams can utilize. You can track estimated revenues, estimated close dates, and the contacts included in a specific opportunity or account. Deal stages are displayed as columns in the CRM, while opportunities show up as individual "cards" in the columns. You can quickly drag and drop opportunity cards from one deal stage column to another across the sales process. The expected value and percentage to close will automatically update, depending on which deal stage the opportunity is moved to.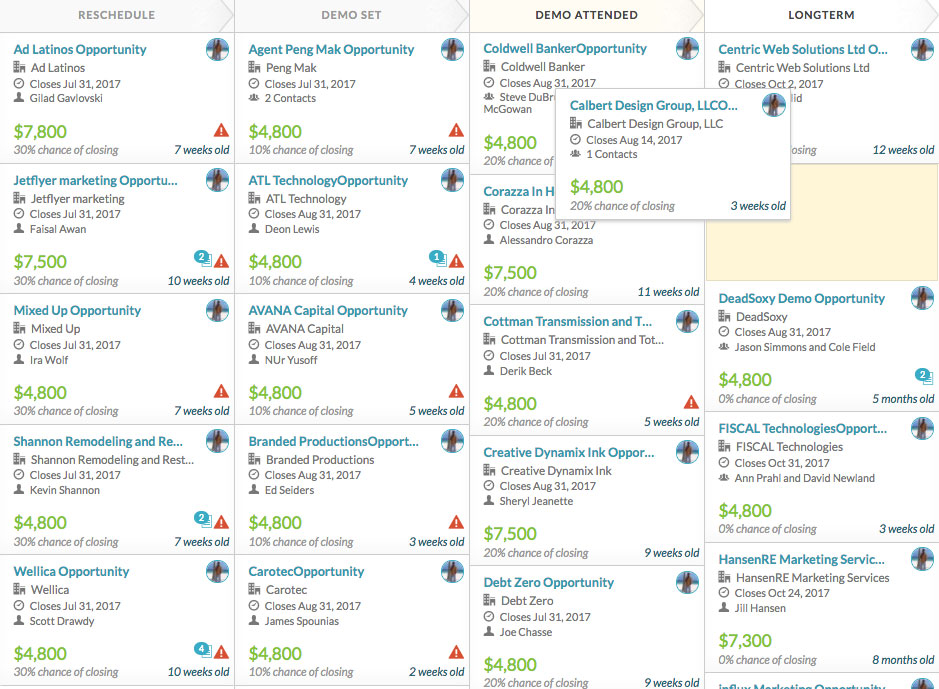 Customizable Pipelines
Pipeline stages are the steps used to track the progress of an opportunity from the beginning to the end of the sales cycle. These pipeline stages are completely customizable to meet the needs of every business niche. The number, order, name, default probability and description of the stages can all be adjusted to fit your exact business needs.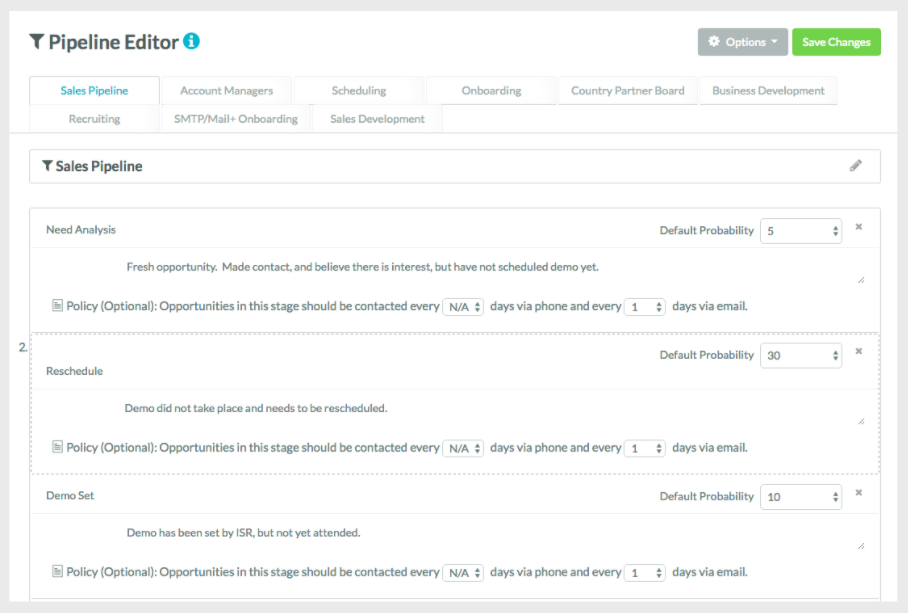 Accounts of All Sizes
Stay organized with accounts that let you keep track of employees, opportunities, and more. We suggest combining contacts that share the same email domain into one account, so you have a centralized place to maintain employee information from that company. For example, everyone at SharpSpring with a "name@staging-sharpspringcom.kinsta.cloud" email address can be lumped together into one account, allowing you to easily group clients and customer segments.
This is especially helpful when leads are being passed back and forth between the marketing and sales teams. You can quickly find out where a full account is in the buying process, and market to them accordingly.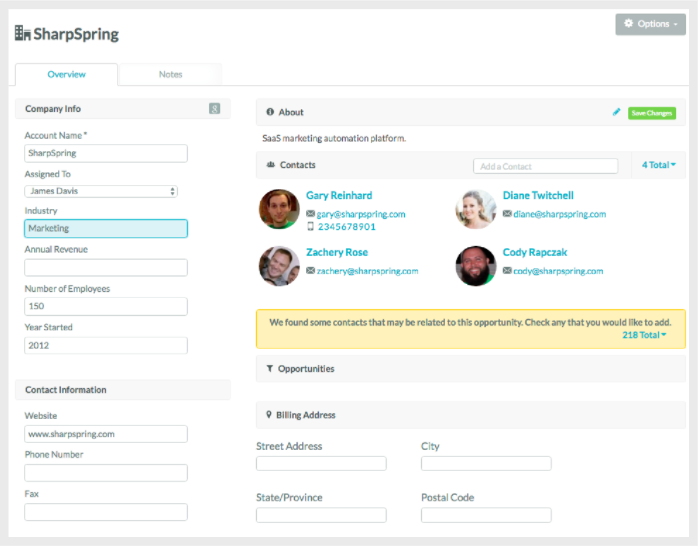 SharpSpring CRM Reports
This is where the fun comes in. You want us to show you the money? OK, sure thing!
The SharpSpring CRM enables you to manage the entire sales process by creating five different types of reports: conversion reports, pipeline reports, activity reports, follow-up reports, and projection/performance reports. You can apply filters to each report to evaluate the performance of a specific salesperson or your sales team as a whole.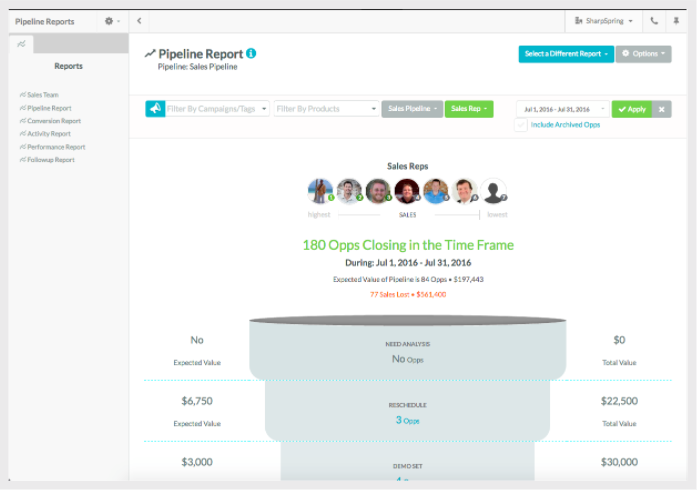 A CRM Built With You in Mind
Ultimately, we wanted to create a simple, intuitive CRM that would meet the needs of our agency partners and small-to-medium-sized business clients. We wanted to tear away the bulky features that can get in the way and deliver a streamlined product that's a value-add for all of our amazing marketing partners.
Why should you be penalized by crazy per-user costs if you have a big sales team? We want to make it easy for everyone on your team to be on the same page and have full visibility of ROI. The sales and marketing teams should be able to work together – on the same platform and toward the same goals.
To learn more about the SharpSpring CRM, schedule a live demo.